This is the second installment of my new monthly feature called "Seller Spotlight." Once a month, I will introduce you to a reputable eBay seller who lists quality Anthropologie items from past seasons. I wanted to create something that would benefit the community and hopefully turn you on to great deals from honest sellers who are the cream of the crop, as I know eBay can be a little intimidating.
This month's featured seller is Emily, who sells under the name
Piwykit
on eBay. I first met Emily through eBay's Clothing, Shoes and Accessories discussion forum and later got to know her better through a Facebook eBay sellers' discussion forum. Emily sells a mix of very high-end and mid-range brands, and her knowledge and expertise in all things fashion is remarkable. Her listings are downright drool-worthy, and her prices are fair and the quality of her items is amazing. So here is my question-and-answer session with her; I hope you enjoy it!
(Q) How long have you been selling on eBay and how did you get started?
(A) I started selling in 1998 while I was in college, though the piwykit ID started in 2000 after eBay outlawed having your email address as your ID. Ebay became an easy way for a poor college kid to make a little extra grocery money while still being flexible enough to work around class schedules. I really started working as a business in 2004 and went full time in 2008.
(Q) How would you describe the type of inventory that you carry? Do you specialize in any type or brand of clothing?
(A) My store focuses on fashionable luxury brands at a fraction of the retail price. I like to think of my store as an online consignment store that carries everything you need. While I specialize in high-end designer brands like Chanel, Pucci, Fendi, Christian Louboutin, etc., there are a variety of sizes, styles and brands. Personally, I like to mix high and low (a Gap T-shirt with SFAMK jeans and a Chanel jacket) and think that no one's closet is exclusively designer merchandise. So you will find a little bit of everything at Piwykit's Designer Closet.
(Q) What attracts you to the Anthropologie clothing that you carry? When did you start carrying Anthro clothes in your eBay store?
(A) I love Anthropologie. They are a perfect contradiction — feminine without being girly, retro without being costume, quirky without being weird. I love the unexpected details, the whimsy, (and) the fun of their pieces. Also, I love how they carry select collections from different designers, and in fact helped launch the lines for Nanette Lepore, Vince, Tibi and many others! I really started selling Anthropologie in 2004; first, some of my personal pieces that no longer fit, and then expanded my offerings.
(Q) Are there any pieces of Anthro that you've particularly liked or are your favorites?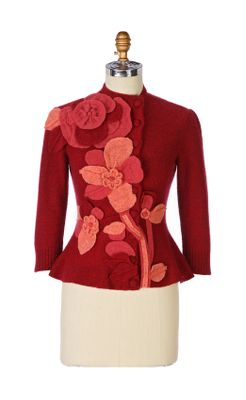 (A) I still regret selling my 2008 Armana Jasmine Cardigan; it was the perfect red and really put me in the mood for cooler weather. But it seems that every year they come out with something else that I covet. ;)
(Q) Do you have any advice for eBay buyers to ensure they have good transactions with sellers?
(A) Research is key — know what you are buying and know who you are buying it from. Check out a seller's feedback and their reputation for selling quality items. Read the listing very carefully — unfortunately, there are sellers out there that are selling a "no name" dress and include Anthropologie earrings in the (listing) but don't tell you that unless you read the fine print. Know your Anthro brands! Some inexperienced sellers list Urban Outfitters' brands and Anthro-look-a-likes as Anthro brands when they really aren't. Check out the pictures (personally, I like to see a picture of the label, too!).
(Q) You also sell your items on Bonanzle, an up-and-coming sales site for pre-owned clothing sellers. Why did you decide to also list your items on Bonanzle, and how does the experience differ from eBay? What advice do you have for buyers on Bonanzle?
(A) I also have items available on Bonanza.com (they just changed their name). The experience is very similar to how eBay used to be — there is a feeling of community and a "grassroots" selling venue that eBay has lost. The sellers (on Bonanza) are individuals selling their own things or running a small business, not the mega-sellers and outlets drowning the site in their cast-offs. There is a much more "home-y" feel to the site and the interactions between buyers and sellers. My best advice for buying on Bonanza? Use the same precautions when vetting your seller (and item!), but definitely give it a shot!!
I'd like to thank Emily for sharing her answers with us. Don't forget to check out all of Emily's listings in her eBay store; you can find it
here
. I've also included a permanent link to Piwykit's eBay page on the side of my blog so you can check back in with her often. I hope you've liked this feature, and you can look forward to another installment next month!
If you are an eBay seller of Anthropologie items and would like to be featured on Seller Spotlight, please contact me via email at saraefarr(at)gmail.com